We have already prepared the basics for the JGA in Innsbruck in this article. In addition, we have put together two perfect days in Innsbruck for you. Once for women, once for men. Enjoy reading.
JGA in Innsbruck for men
Innsbruck has so much to offer, but how do I put together the perfect program for my poltergeist group? We have put together an exciting day of outdoor fun and evening pub crawl for you. Your time in Innsbruck is sure to be legendary!
Poling during the day
In good weather, a trip to the nearby mountain carts of the Mutterer Alm just outside Innsbruck is a good idea. On the newly developed fun sports equipment, you will race down the closed-off mountain cart track more or less rapidly in Mario Kart style for a total of 5 kilometers into the valley. If you plan this activity for the afternoon, it is a good idea to take the Mutterer Alm cable car up around noon. Afterwards you can have a bite to eat at the alpine pasture and then plunge death-defyingly downhill in the karts.
In case of bad weather there is a super indoor – alternative. In the event location B1 party, action and fun are possible in any weather. Activities such as laser tag, bowling, 3D mini-golf, Escape Room Games and an indoor go-kart track make every man's heart beat faster. Depending on your hunger, you can treat yourself to a smaller or larger meal in the in-house restaurant.
Dinner at JGA in Innsbruck for men
Here we definitely recommend the rich menu and the impressive beer selection of the Glorious Bastard near the former Innsbruck harbor. The restaurant is all about open fires and smoke flavors, offering a cross-section of steaks, burgers and pizza. The dishes are almost too good to wash down with one of the delicious craft beers. but that's only the biggest problem on your trip. With its open floor plan and spacious terrace, the Glorious Bastards can accommodate small and even larger poltergeist groups.
Pub crawl at rumble in Innsbruck for men
After you've created a suitable pad, you can either take a cab or public transportation back downtown for your Bachelor Party Pub Crawl, or you can start right in the area. Here the Zappa would be an ideal start for your tour. From there you can work your way further and further into the city center.
If you start right in the city center, I recommend a mix of the Irish pubs Limerick Bill's and The Galway Bay. The craft beer pub Tribaun, where you can taste a wide variety of beers, is also on this list.
These are all within a radius of about 500 meters, so they can all be reached on foot within a few minutes. In the immediate vicinity are other great places to eat like Brooks, Haltestelle, Moustache and 6020. With a small beer in each bar, it is really good to rumble from pub to pub in Innsbruck and you will experience a successful bachelor party.
Tip: CulinaryCraftTours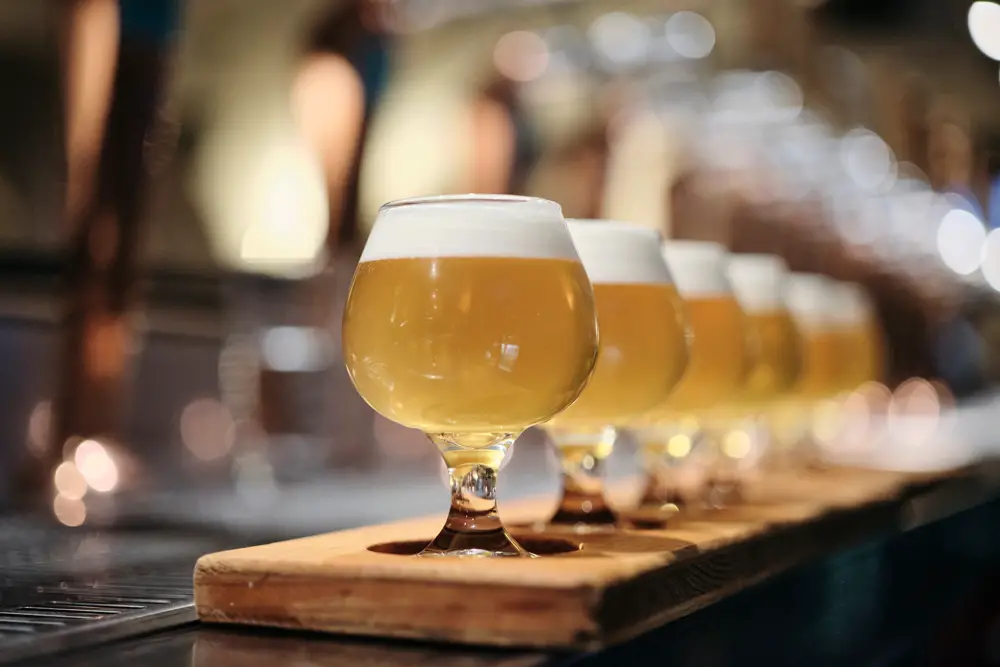 For a brand new and exciting way to entertain, check out Culinary Craft Tours:
Here you can choose from an exciting range of guided culinary tours and discover the city of Innsbruck in a fun and unique way. On tours like "The Beer History of Tyrol" and "Cocktail Tour Innsbruck" you can expect a mix of the main sights of the city as well as traditional and trendy bars. Loosely based on the motto: city walk meets pub crawl. Why not start your evening activities with one of these tours and save valuable prep time? Plus point: Large groups benefit from a discount from 10 people. For more info, visit https://culinarycrafttours.com/*.
JGA in Innsbruck for women
You have chosen Innsbruck as a side trip for your bachelorette party? Then you definitely have an eventful and fun day or even weekend ahead of you! We have prepared the following proposal for you, with which you can spend a great time with your girls and at the same time get everything out of the time in Innsbruck:
Hotel for JGA in Innsbruck for women
For this scenario, it is recommended that you pitch your tents at Hotel Adlers in the Pema Tower in the immediate vicinity of the main train station. If you arrive by train, you can reach the hotel within 2-3 minutes walking time from the main station.
Poling activities during the day
Dinner at JGA in Innsbruck for women
Before you head out to the Bachelor Party, how about a nice souvenir photo in your outfits? At Picture People in Kaufhaus Tyrol you can have a great and above all professional photo taken of your wedding party. The perfect memory of your unique time in Innsbruck.
Within walking distance of Kaufhaus Tyrol are several great restaurants for every taste. There's the burger joint Ludwig's, which, in addition to its excellent burgers and fries, wows with its great decor. In Universitätsstraße you will find Pizzeria Una, which offers a beautiful garden and unusual and above all delicious pizza creations. Are you in the mood for sushi? Victoria has the best sushi in town. And again, all the restaurants are not far from each other, so you can get everywhere in a short time on foot.
Pub Crawl at Poltern in Innsbruck
For this pub crawl, we've chosen places with delicious cocktail creations and great interiors, all of which are located so that you can get to know Innsbruck's city center in the best possible way.
As your starting point for your Polter Pub Crawl, we recommend the Moustache, or rather, the outdoor seating at Domplatz. On a balmy summer evening, a refreshing cocktail in this spot feels like a short vacation in Rome. So don't miss out on this experience.
Afterwards, we will walk through the picturesque Old Town with the famous Golden Roof across the moat to the Liquid Diary. Here you can order beautiful cocktail creations.
If it has become dark or at least dusky outside, you can take the elevator to the top floor of the Rathaus Passage. Here the rooftop bar 360 degrees is waiting for you. Here the name says it all. You can expect a breathtaking panoramic view of Innsbruck at night and the surrounding mountain ranges.
Afterwards, you can take a short walk to the Triumphpforte and have your next drink at the hip Kater Noster. Der Kater is one of the trendiest bars in Innsbruck.
The next stop is again further into the city at Bar Centrale in Maria Theresienstraße, before you can end your bachelorette party at Copa Cabana directly opposite Moustache, with a round of karaoke.
Brunch in Innsbruck
If you're staying at Adlers Hotel, be sure to treat yourself to the in-house brunch as a cure for your hangover. Having brunch in the sunshine on the terrace with a view of the Inn valley and laughing with your girlfriends makes every eye ring disappear in an instant.
* Info about commission links