Warning: Undefined variable $label_below_html in /home/.sites/47/site8847169/web/polterabend/wp-content/plugins/easy-table-of-contents/includes/class.post.php on line 1458

Budapest is a beautiful city and the ideal place for your bachelor party or stag Bachelor Party. From accommodation to evening programs, there are many ways to celebrate in the capital of Hungary. Here are some ideas on how to organize your bachelor party in Budapest.
Accommodation at the bachelor party in Budapest
There are many options for accommodation in Budapest, from hotels to Airbnb accommodation. If you are looking for something more luxurious, I recommend the Bristol Hotel or the InterContinental. For mid-range options, you might consider the Mercure Budapest City Center or the Danubius Hotel Helia. If you'd rather stay in Airbnb accommodation, there are many great options in a variety of price ranges.
There are also many hostels in the city that offer cheap accommodation, especially suitable for young travelers and groups. Some recommended hostels in Budapest are Hello Budapest Hostel and 11th hout Cinema Hostel. Both hostels offer cheap room options and have a good location in the city. Hello Budapest Hostel also offers a shared kitchen and a bar, and is just a few steps from the Chain Bridge. You can find more hostels for the Bachelor Party in Budapest here.
It pays to book in advance to secure the best deals, especially during high season. Prices for hostels in Budapest are still very cheap compared to other European cities and offer a budget accommodation option for those who want to celebrate their bachelor party in Budapest.
Bachelor Party dinner in Budapest
Budapest is known for its excellent gastronomy, so you should definitely enjoy a good dinner. If you want steaks and burgers, there are many recommended restaurants in Budapest that offer just that. For example, the Prime Steak House, or the Hard Rock Cafe Budapest, which is not only popular with tourists, or the Zing Burger. If you prefer to eat something different, there are also many other restaurants in Budapest that offer different cuisines, from Hungarian to international. Some of these restaurants are Borkonyha Winekitchen or Frici Papa.
Activities at stag night in Budapest
Activities & Sightseeing in Budapest
Budapest offers both indoor and outdoor activities for groups. If you want to experience something adventurous, you can, for example, take a city tour on monster e-scooters* or a Boat tour incl. Drink*. For indoor activities you can visit an Escape Room or the Budapest Pinball Museum. If you'd rather experience something cultural, you can visit Budapest's Castle District* or take a guided tour of the underground labyrinth beneath the castle*.
Budapest has many sights suitable for groups, including Budapest Castle, Chain Bridge and Heroes' Square. There are also many ways to explore the city in a different way, such as with a city tour in the Hop-on hop-off bus incl. a boat trip on the Danube*.
Evening program and going out while poling in Budapest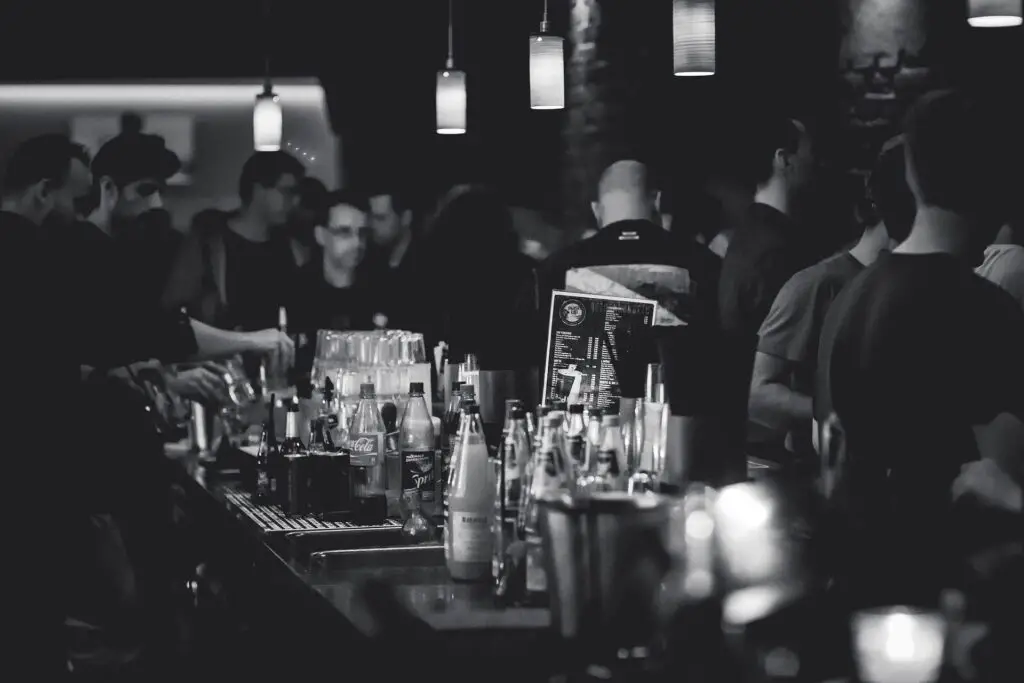 Budapest has a lively nightlife scene, so there are plenty of options for evening entertainment and going out. Some recommended bars and clubs in Budapest are Szimpla Kert, Instant Fogas and Lámpás. There are also many live music venues, such as the Akvárium Klub or the Dürer Kert.
If you want to meet people and have fun in Budapest, there are many ways to do it. For example, you can go on a pub crawl or join a city tour with local guides who will take you to the best places to go out in Budapest. You can also just walk around the city and enjoy the atmosphere and hope to meet some interesting people. There are also many bars and clubs that regularly host events and parties, such as Morrisons 2,"Anker't" and"Doboz" – to name a few of the famous ruin bars.
All in all, Budapest offers many possibilities for an unforgettable bachelor party or stag Bachelor Party. From accommodation to evening programs, there are many options to celebrate in this beautiful city. I hope these ideas will help you plan your bachelor party in Budapest. If you're not convinced, check out our other stag night travel ideas.