The difference between a bachelor party and a stag party is becoming increasingly blurred. Originally, the Polterabend was celebrated together with the bride. Today, people usually do this separately – this celebration is then called a bachelor party. The Americans also say "Bachelor Party" or "Stag Party".
But what should a best man consider who wants to organize a stag night for real tough guys? Today we present you a few ideas and try to provide as much inspiration as possible.
This list is focused on Vienna and its surroundings. For other polter destinations, take a look at our polter trips – there we have already compiled tips for other places for you.
What happens at the bachelor party for men?
The group of the groom's best friends gathers to spend a day and evening with him. This day usually consists of three parts: Fun activities and challenges, good food and celebration. Most of the time, the groom does not know in advance exactly what to expect, because the stag night is organized by the best man.
Since "Hangover", many imagine a bachelor party to be a crazy party. Blackouts, strippers, the wackier the better. Of course, this is possible, but if you don't feel like alcohol excesses and sharpie on your face, you're far from lacking options. But even if party is on the agenda, it's fun to do something memorable beforehand. But now to the point: here are our best ideas for the bachelor party for men.
Gasoline in the blood
Heavy equipment: excavator and tank driving
Before the wedding, you want to drive some heavy equipment and get your hands dirty? This is also possible for people without dredging license whole easy. For those who wanted to become an excavator driver as a child, but then mistakenly studied medicine, you've come to the right place. Here you can book excavator experiences directly*– in Austria and Germany. The perfect start to the stag night!
If an excavator is too slow for you, you can choose another tracked vehicle. Because some providers offer you the opportunity to jet through the area in a tank* and thus make your childhood dreams come true.
Offroad driving bachelor party for men
Darting around in the mud with lots of horsepower lifts your spirits. Here you can easily book off-road experiences in Austria and Germany near you*. There's everything from quad bikes to Hummers and tanks. If you live near Vienna, you should also read the next two paragraphs carefully.
Dynamite Tours
At Dynamite Tours you can not only dredge, but also go wild with other heavy machinery. For motor sports enthusiasts, there are many great offers here – from quad biking to a wild cross-country ride in a Hummer, it's all here.
For this, however, you have to put up with a little driving time, because the men's playground is located in Weikartschlag in Lower Austria.
HellsKlamm
Speaking of motorsports, HellsKlamm is great for off-road enthusiasts with their own vehicle. On 200 hectares with more than 30 different tracks, you can fight your way through mud, curves and everything your off-road heart desires. Beginners will of course get help.
If you don't have a Land Rover Defender in the garage, this shouldn't be a problem. Rental vehicles with instructors and the awesome event location at Basecamp are available upon request. There you can not only buy beer, but also pre-order grilled meat…
Alternatively, you can also take a look at the various off-road packages* here– works even without your own jeep.
GoKart driving
If you're more into fun than wild speeding, one of the many karting tracks in Vienna – for example the Monza Kartbahn in Hochwassergasse – is a good choice. For seven people or more, you can even rent an entire track at 46 euros per head to duel with the 9hp high-tech karts.
Rent sports car
If you are too boring go-karts for the bachelor party for men, then well watch out. It is also faster. And much faster. Whether it's a Ferrari*, Porsche*, Mustang*, Lamborghini* or Tesla*– with the necessary change, you can rent just about anything with four wheels.
Shooting around
If smoking engines and the smell of gasoline aren't manly enough for you, there's only one thing left to do: head to the shooting range! But you don't always have to handle real weapons. The following bachelor party activities are also great for the community service people among you.
Lasertag and paintball
Those who like action but not engine noise will have fun with laser tag and paintball. LaserMAXX , for example, is represented at three locations in Vienna, but Laserbase also leaves nothing to be desired with its 400 square meters of arena space. The advantage: In contrast to paintball, a laser tag game is mostly painless. Here you can find more lasertag offers* all over Austria and Germany.
Those who prefer paintball and bruises will undoubtedly find what they are looking for at the Vienna Paintball Park. The Paintball Dreamfields, just 15 minutes from the Vienna city limits, also offer a lot of shooting fun with paint cartridges.
If you prefer to stay in the city, you can take a look at the offers from MOON Paintball. Located directly across the street from Shopping City North, this arena is a great choice for those who want to grab a drink or a bite to eat right after the game. You can also book many other paintball offers throughout Austria and Germany directly here*.
Shooting training
Laser tag and paintball are too boring for you? Instead, you want it to really pop? No problem. Because it can also be harder. There are plenty of providers here for shooting days with real guns*.
There is also shooting training for beginners at Fighting for Film. Try out various different weapons, improve your aim and feel like a gunslinger – Fighting for Film makes it possible. The perfect activity at the stag night reception for men.
Tip: On the shooting range you should appear sober. So plan for this activity before you break out the booze.
Adventure & Outdoor
Skydiving (in Austria*/in Germany*), bungee jumping*, track day*– the possibilities are endless.
We have compiled the best adrenaline activities for you in a separate article that will send your blood pressure soaring. So if you like it adventurous, or want to please the adrenaline-loving groom, you will undoubtedly find what you are looking for here.
Bubble Soccer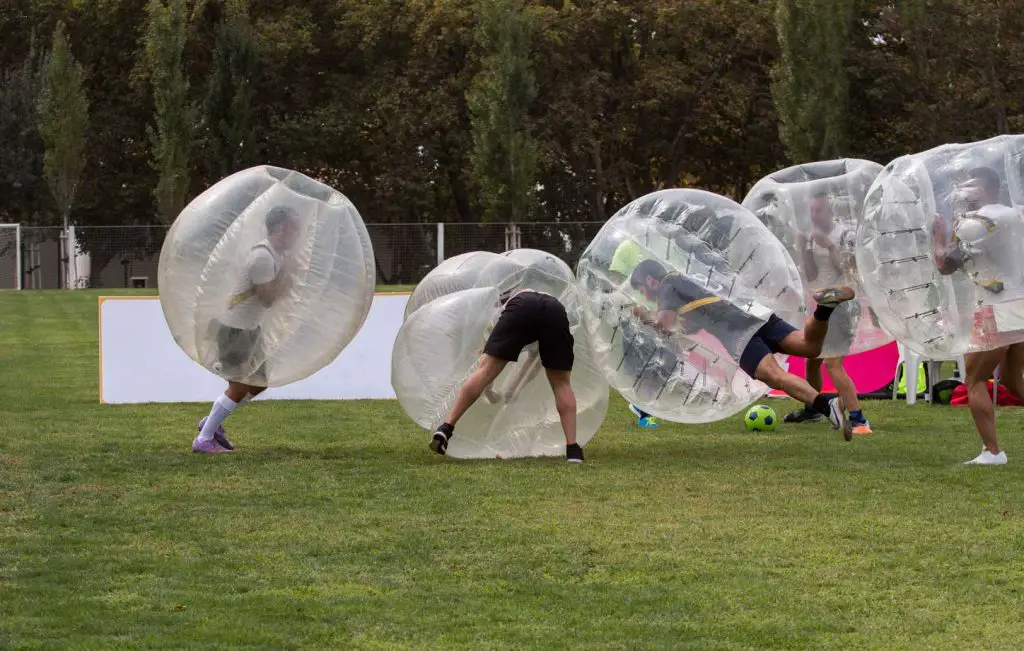 Bubble Soccer* is a sport where you slip into giant inflatable balls. Dressed in these things, you are then supposed to play soccer. Sounds stupid, but it's really fun. Tip: Don't drink too much beer before Bubble Soccer. You can be properly shaken in the process.
Soccergolf in Stockerau
Soccergolf? How are you supposed to imagine that? Exactly as it sounds. On 18 courses you can combine soccer with golf and try to sink the ball in the hole with as few attempts as possible.
Those who are more into darts are also catered for here – in soccer darts, Velcro balls are kicked onto a giant dartboard. There is also an indoor fun zone – where you can try your hand at soccer bowling and soccer billiards.
Indoor
Outdoor activities do not always lend themselves to the bachelor party. Often rumble in the fall and winter. Of course, we also have the right ideas for this.
Make gin yourself
Those who would like to add a personal touch to their bachelor party can produce their own gin at the Gin Day at the Vienna Craft Distillery. With 290 euro for 3 bottles, 360 euro for 4 bottles or the luxury package of 40 bottles for 1000 euro with completely individual prescription the offers can be quite respectable.
If you'd rather just drink the gin without having to slave over it yourself, you can simply book this gin tasting*.
Whisky Tasting
What better way than to enjoy a glass of whiskey with your best friends? And then one more. And one more thing. Along the way, you even learn something about the delicious swill. From smoky to spicy-sweet, the noble whiskey can do everything. In addition, it puts you in the perfect mood for the bachelor party that follows.
You should always book a whisky tasting in advance. Here you can book a whisky tasting for up to 8 people at "Das Heinz" directly*.
Blacklight mini golf
A fun alternative – which can also be combined with alcohol – is miniature golf. But normal minigolf would be too boring, so in Blacklight Arena you can play minigolf with black light and 3D holograms. Really spaced out and really fun.
Evening program at the bachelor party
Eat out
While we're on the subject – a proper pad is needed for any bachelorette party – especially after such strenuous activities during the day. Restaurants are a dime a dozen in Vienna, of course, but here are a few of our suggestions. From XXL restaurant to the perfect Italian for the stag night in Vienna, there is everything.
If you don't want to do any research at all, you can simply book a local tour* at Miomente – with a tour guide and without any worries.
Bar tour
Aside from putting together your own pub crawl, you can also get comfortable and book with Pub Crawl Vienna or through Viator or an organized pub crawl instead.
For the classy cocktail connoisseurs among you, there's also this guided tour of Vienna's best bars*. If you prefer to do your own planning, you can read through our list of the best local tips here (link follows).
Home Party
You don't always have to overdo it – If you just want to hang out with your friends at home, or just get a little pre-glow, you can always fall back on the tried and true home party. Tips on drinking games and decoration can be found here with us.
The full cliché- 18+ bachelor party for men
If you still want to be inspired by Hangover, you are invited to read through our article for the bachelor party 18+. Because for some people, a stripper is simply part of the bachelor party – such clichés do not come from nowhere. Fortunately, it is not a problem to organize something like this. But beware: one or the other wedding is said to have been canceled because of incidents at the bachelor party.
Pranks, games, activities, challenges
No matter whether on the way or rather in the closed circle at home, who looks for activities à la drinking games and party games for his Polterabend, finds here. We have also compiled the funniest challenges for bachelor partiesfor you.
And because stereotypes are boring, all gentlemen who like to take a more relaxed approach should read the article for activities for the bachelorette party – because spa visits are far from being just a women's thing. (And honestly, we kind of had to split up the list of activities). Also in our suggestions for couples you can still find so many things that you can do as a bachelor group.
Travel for your stag night
If you don't want to spend your last evening of freedom in your usual surroundings, but would rather celebrate in a new place, you should get away. We have compiled the best travel ideas for the bachelor parties: From amusement parks and festivals to beach vacations, it's all here.