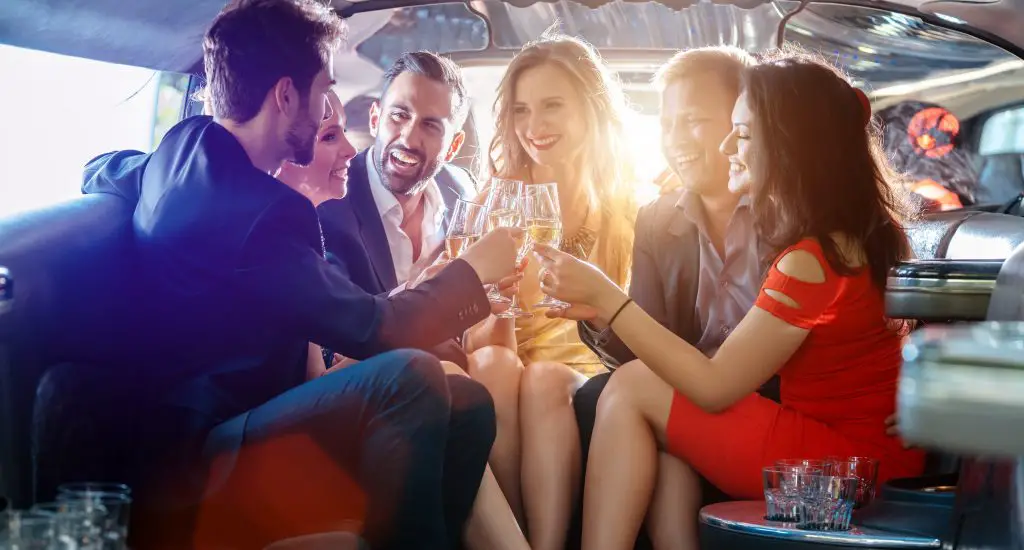 What you can do if you prefer to celebrate your bachelor party or bachelorette party alone with friends, we have already told you. But what if you'd rather say goodbye to your unmarried life together with a couples' bachelorette party? We'll tell you. – Consider beforehand whether the bride and groom or the groomsmen should be responsible for the bachelor party. This is easier for the bachelorette party, where it is usually always the best man, but the traditional bachelor party is usually carried out by the bride and groom.
Disclaimer on the side: The activities for bachelors and bachelorettes work largely for couples as well, so you are welcome to browse once.
The traditional bachelor party for couples
Traditionally, the Polterabend is a gathering of the bride's family and friends to smash dishes together to drive away evil spirits and because shards are known to bring good luck. (For more on the story and other Polterabend customs, click here!) Afterwards, the bride and groom must sweep up the broken pieces together, symbolically kicking off the communion that awaits them.
However, there are a few things to keep in mind here:
Never break mirrors or glasses – only porcelain, ceramics and clay are allowed, otherwise the couple is in for a very bumpy marriage.
Pay attention to the location and the crowd. What is easy to clean up, most organizers will forgive you. However, it should not get out of hand. It should be possible to remove the shards easily to avoid injury risks for guests and pedestrians and especially their dogs. So the sidewalk is not an ideal choice.
Think about how you will take care of the broken pieces beforehand. Some couples order a container right away before getting down to the business of smashing dishes. The rule is: leave the place as you found it.
You can order poltergeschirr online, by the way, if you just do not have anything at home that you want to smash. This is discarded or otherwise unsuitable for distribution porcelain. It's a lot cheaper than ruining grandma's pretty wedding china.
Those who do not like this tradition better make sure to tell their guests. In the younger generations, few are still aware of the original custom, but you definitely want to avoid someone suddenly showing up to your nice party pre-wedding with a toilet bowl.
Wedding party for couples – activities
Dinner in the Dark
Going out to eat is always nice, but why normal when it can be more exciting? At Vier Sinne in Huttengasse you can enjoy your meal in a different way – in the dark. The completely blind staff provides participants with all kinds of dishes, and drinks are included in the packages. By the way, it's worth taking a look at MyDays – there are always discounted offers for Dinner in the Dark.
Limousine party
Bar tours are nice, but why not just enjoy a nice city tour in a limousine with champagne and laser show? Companies that rent limousines have long ceased to be a rarity. At Star7 there are own Polter packages, at Limo King even an offer for two nights, where you can first on Polterabend and then still on the wedding day a little drive around.
Couple quiz
It doesn't always have to cost money. In addition to our drinking game tips, you can do all sorts of fun things. For example, how about a quiz for the spouses?
Alternately, the bride and groom are asked about each other. "What is the bride's favorite color?", "What did the groom eat three years ago before he was in bed with food poisoning for four days?", "What was the bride's nickname during her school years?" – there are no limits to the imagination.
Whoever answers more questions correctly will get a small prize or just the triumph of victory, of course, it's up to you.
Crossword puzzle for the guests
Similar to the couple quiz, it's all about puzzling. But the advantage is that all guests can participate. Simply put together a personalized crossword puzzle where the solutions represent fun facts about the bride and groom, hand them out to the guests, and you've created a small but fun side activity to celebrate.
Tip: Creating crossword puzzles yourself is very easy, for example with https://www.xwords-generator.de/.
Talent show at the bachelor party for couples
Anyone who has ever been to a wedding knows that there is usually one or the other show act performed by the bride and groom themselves or their friends and family. But if you'd rather just celebrate in a relaxed way on the wedding day itself, you can also put this aspect on the bachelor party – for example, with a talent show.
Especially, who has a lot of musicians and artists in the circle of friends, undoubtedly gets his money's worth when all sorts of mischief around the upcoming wedding is put on display. Finally, the bride and groom (if they did not participate themselves) may choose a winner. Fun, gives room for creativity and promises nice evening entertainment.
To the Prater to rumble?
A list for a fun bachelorette party would never be complete without our good old Prater in it. Whether it's a roller coaster, go-kart or haunted house, there's no doubt that you'll get your money's worth in the Prater. Thanks to the varied selection of activities, including delicacies such as the Schweizerhaus, you also have pleasantly little organizational effort here. Everything you need for a nice afternoon/evening with friends and relatives is right there on the spot.
Scavenger hunt
Scavenger hunts are not just for summer camp. This is proven at the latest by the trend of geo-caching, which has become more and more widespread over the past few years. So why not organize a scavenger hunt for the bride and groom or the whole party?
Put together clues, pick a prize and you're good to go. Just rush the bride and groom – or their friends – around the city (and by that we mean – don't rush them. Make different program points to the stations and so reward each solved clue with a little relaxation).
As for everything in the world, there is also an app for this. Called Goosechase, this little helper allows you to organize scavenger hunts of all kinds simply via your cell phone. Among other things, this has the advantage that GPS tracking can be made part of the game and photos can be shared directly with the group. The whole thing is available for both Android and iOS.
If you don't have time to put together a great scavenger hunt yourself, you can also take a look at the offers for Vienna, Prague* and some other cities here. A fun activity for any couples stag night!
Karaoke
Why not promote your guests' showmanship with a little karaoke? For example, at SOHO in Millenium City or, if you like oriental cuisine and good cocktails, at MAI KAI in the 15th district, you can really unleash your inner diva for once.
If you prefer something more private, you can either simply put together a karaoke playlist on Youtube, or rent your own karaoke room at 1718KTV.
Another option for singing fun is also Just Sing – available for PlayStation* and Wii* including microphones. Simply slide the CD into the game console of choice, plug in the microphones, and you're ready to go. You can set up this setup for little money anywhere there is either a TV or a video projector.
Rehearsal dinner instead of bachelor party for couples
Those who like to keep things familiar or simply prefer to stay put might enjoy the U.S.-style Rehearsal Dinner. Usually, the food for the wedding is pre-tasted here. (That's where the name comes from – "Rehearsal Dinner" translates to "rehearsal dinner"). But if you trust your caterer, you can go out to eat just like that. At the Rehearsal Dinner, a few toasts are usually made as well – usually by the best man and maid of honor, parents and siblings. With good music and delicious food it can be relaxed once again so properly pre-wedding.
Bonus: Since the bride and groom are usually quite busy at the wedding itself, this is another opportunity to have a relaxed chat.
With so many program points, nothing can really go wrong, can it? But if someone is still not quite sure how to organize a bachelor party, you do not have to complain. We help further.
And now – have fun rumbling! Mazel Tov!