You don't want just one last night to let your hair down, but several nights? You are not alone. Wedding trips are becoming more and more popular in recent years and there are many great offers. We present you here some destinations for the Polterreise and give you the most important tips.
Romania – Poltern in Bucharest & Constanta
Romania and especially its capital Bucharest have become a real insider tip for wedding trips in recent years. Because the city offers everything a polter's heart desires: a vibrant nightlife with a huge selection of pubs. Really good food with hearty, huge portions. Plus delicious local beer – and all at affordable prices.
Hotel accommodation is also still very cheap compared to other European capitals and therefore affordable even for larger poltergroups.

After exploring the capital and its nightlife, it is recommended to continue by train to the Black Sea: the city of Constanta is known for its beautiful beaches and party mile. This is a great place to sleep off your hangover on the beach and then go out for another drink in the evening.
Tip: Try to agree on a fixed price with cab drivers in advance. We have made the experience that otherwise you are quickly ripped off once.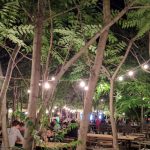 The classic: wedding trip to Prague
Anyone who has visited the Czech capital in recent years has certainly encountered them: Hordes of drunken young men, often dressed in weird costumes and bawling, roaming the streets and celebrating a stag Bachelor Party. Because Prague is made for such wedding trips: Countless drinking halls offer beer at fighting prices like about 50 cents for the half-pint – who can resist? In addition, the nightlife is really impressive: From pubs, bars, restaurants to huge strip clubs and sleazy red-light establishments, everything is available.
The tourism industry has also now adapted to poltergeist groups – so it is quite easy to find and book very affordable accommodation for large groups. However, it is important to adhere to the respective rules there – the neighbors are sometimes annoyed when someone bawls from the balcony every night.
The restaurant scene in Prague is also quite impressive: Czech cuisine – much like Romanian – is characterized by large, meaty portions at reasonable prices. I would like to make a special recommendation at this point for this Churrasco Grill Restaurant – perfect as a base before the big bachelor party. Click here for hotel offers for Prague*.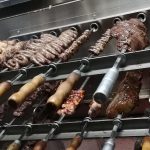 Majorca: Bachelor Party at the Ballermann
Even though Mallorca has recently announced some measures against excessive booze tourism, the island is still one of the party destinations par excellence. And it will probably stay that way for a while, because party tourism is an enormous economic factor for the island. Understandably, however, one would like to reduce the number of black sheep that pee all over the beaches of Palma in the morning. So here, too, the rule is to keep a bit of decorum in spite of all the celebratory mood.
But now to the tips for the Bachelor Party in Mallorca. As a start, an evening on the Ballermann is recommended. This is located in Palma's district "El Arenal" and is by far the favorite party mile of the Germans. There are very, very cheap, filthy sleeping accommodations here (I wouldn't call them a hotel) that are just OK for party travelers. At Ballermann, you should at least visit the classics Bierkönig and Megapark and pick up your worthy free T-shirt for every Maß you drink.
After that, you can head to the beautiful north of the island, for example, and relax there for a few days, or head a few kilometers away to Magaluf and party with the Brits, who have their own favorite beach – where it can be just as busy as its German-speaking counterpart.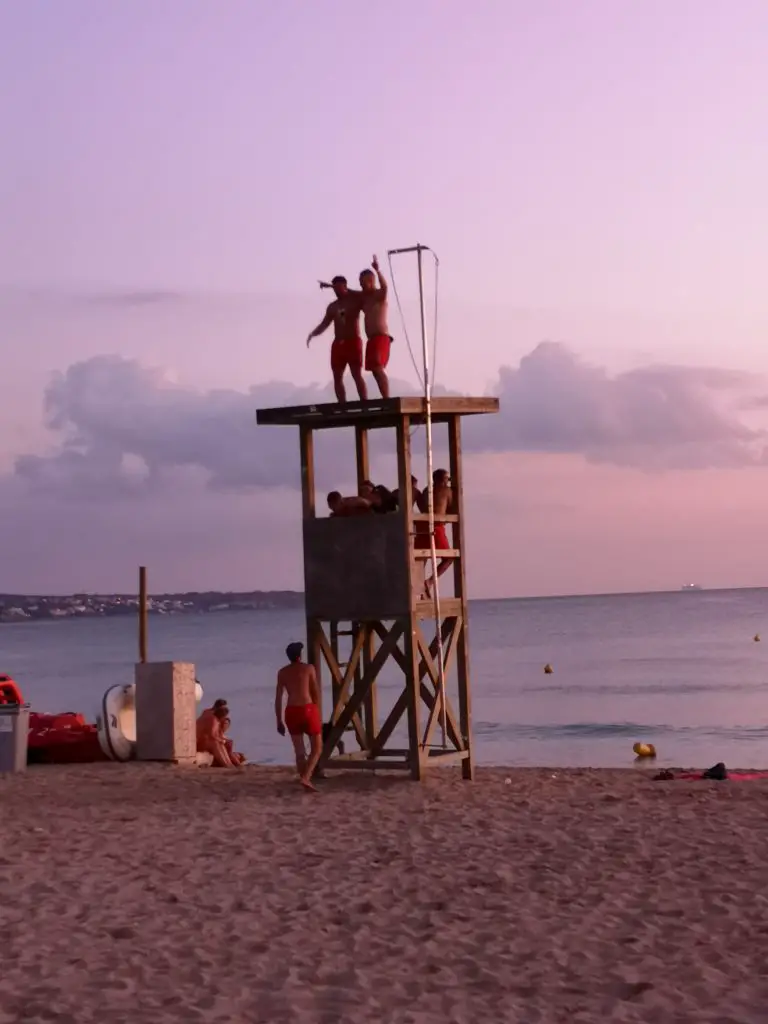 Zrce Beach – Wedding trip to Croatia
Zrce Beach is known as the party beach of Croatia. Not only does this area host numerous festivals and spring break events every year, but Zrce is also home to four DJ Mag top 100 clubs. So the place is made for a summer polter trip with a real beach feeling and crass celebrations in the evening.
Because that's what makes the Zrce feeling: Spending the day on the beautiful beach and enjoying life, and then dancing the night away to one of the frequent world-renowned Djs.
Zrce is set for party tourism – it is very easy to find large accommodations for groups. Tip: Book a villa with a private pool for your party crew, where you can chill out during the day before getting ready for the next evening. In this article we have compiled more information about the Bachelor Party in Croatia.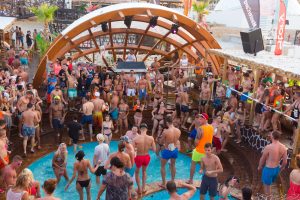 Lake Balaton bachelor party: Siofok, Balaton
It doesn't always have to be the sea. A fun and extremely affordable alternative is also Siofok on Hungary's largest lake, Lake Balaton. At Aranypart Beach you can expect not only a beautiful lake beach, but also everything else that belongs to a good polter trip.
Because the famous party mile of Lake Balaton is located here, with a large number of clubs, bars and even a party ship. The best thing: German is spoken everywhere, which means no communication problems are to be expected. Hungarian cuisine and local beer are also not to be sneezed at – so hunger and thirst will be satisfied.
By the way, the price level is very low – you can often get a main course in the restaurant for 6-7 euros.
Polterreise once differently: A hut in the forest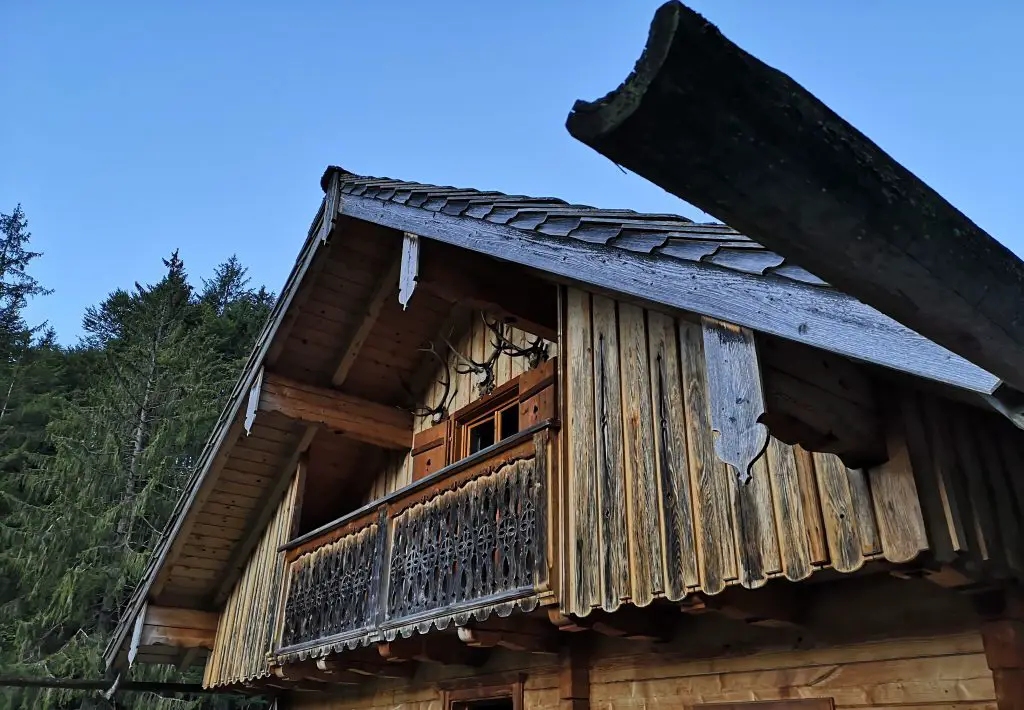 Why wander far and wide when good things are so close! It doesn't always have to be a plane trip to a faraway destination. Grab your Polter round, book a fine cabin and make yourselves in all peace and seclusion a few beautiful days! Because around the campfire with beer and wine often arise not only the best conversations, but also unforgettable memories. During the day you can talk yourself into going hiking, sleeping, drinking beer and barbecuing.
Tips
Pack enough food (barbecue meat!!) and drinks
Find out beforehand whether electricity and hot water are available
If any of you want to go fishing, don't accompany him. It's more fun to binge with the others at the cabin.
Nothing found?
Never mind. There are so many options for poltergeist trips that it is impossible to list them all here. But we have another article here with travel inspiration for the bachelor party. We hope to have given you some good ideas for wedding trips with our list. But if you prefer to stay in Austria, check out our activities.