A bachelor party is coming up and you want to make the JGA shirts yourself? No problem, we explain how to do it. With our shirt designer you can create a personalized shirt for JGA, bachelor party or bachelorette party in just a few minutes.
You can easily choose from our motifs for JGA shirts, or upload your own motifs. Also photos and self-created graphics can be printed the shirts for the bachelor party.
But now let's go, have fun with our step by step tutorial on how to make JGA shirts yourself. Before we get started, you'll need to open our shirt designer.
Select product
To begin with, you can choose one of our printable shirts. And right from the start: There is the right size for everyone. From regular men's shirts to tank tops and crop tops for women to special sizes for pregnant women, we have everything to choose from. There is also a wide selection in the premium segment. So you can also have vintage shirts or hoodies printed.
Tip: You can also order different products with the same motif. There are also mugs, masks and coasters that can be printed personalized.
Choose color of homemade JGA shirt
Once you've decided on a product, you need to decide on a color. This is easily done by selecting the desired color in the bottom right corner of the shirt designer. Classics for the bachelor party and bachelor party are black shirts with white print. But it also goes more fashionable – let the creativity run wild.
JGA shirt motif choose
Now you're spoiled for choice: Which of our premium motifs will you choose for your homemade JGA shirt? Or would you like a completely custom motif? Then jump right to the next paragraph.
On the left side you can filter the motifs. Once you have decided on a motif, you can position it anywhere on the chosen product. You can also edit the size and coloring of the design by selecting the design and choosing a color in the lower right corner.
Personalize shirt for JGA
If you want to make JGA shirts yourself, you often want to print your own texts and motifs. Of course, this is very easy with our shirt designer. We'll show you how to completely customize the back of a shirt in our example.
To do this, first select the item "back" below to design the back of the wedding party shirt. Tap on "Text" on the left and place the text field anywhere on the shirt. Then enter the text that you want to be printed on your JGA shirt in the input field at the top right. Now you can also choose from one of the many fonts. You can also set the size of the text here.
A special cool feature for designing the shirts is also the "Text Bending" slider, which can be used to create curved texts. This makes it very easy to create cool designs.
Make and upload your own design for JGA shirt
Pictures say more than 1000 words. Therefore, of course, you can place not only texts on our shirts for the bachelor party, but also pictures. There is the possibility to upload pixel graphics (PNG, JPG) as well as vector graphics (SVG). What the difference is, you can read through here. If you want your design to have transparent areas, you will need to upload it as either a PNG or vector graphic.
To upload your design, click "Upload" on the left side. Please note, however, that you may only upload motifs that you have created yourself. Protected logos etc. are of course not allowed. So accept the warning, press "Upload" and select the image from your computer.
After uploading, you can click on the motif and thus insert it directly into your homemade shirt for the bachelor party. Then you can place it on the shirt by dragging it and adjust the size.
Calculate price for homemade JGA shirt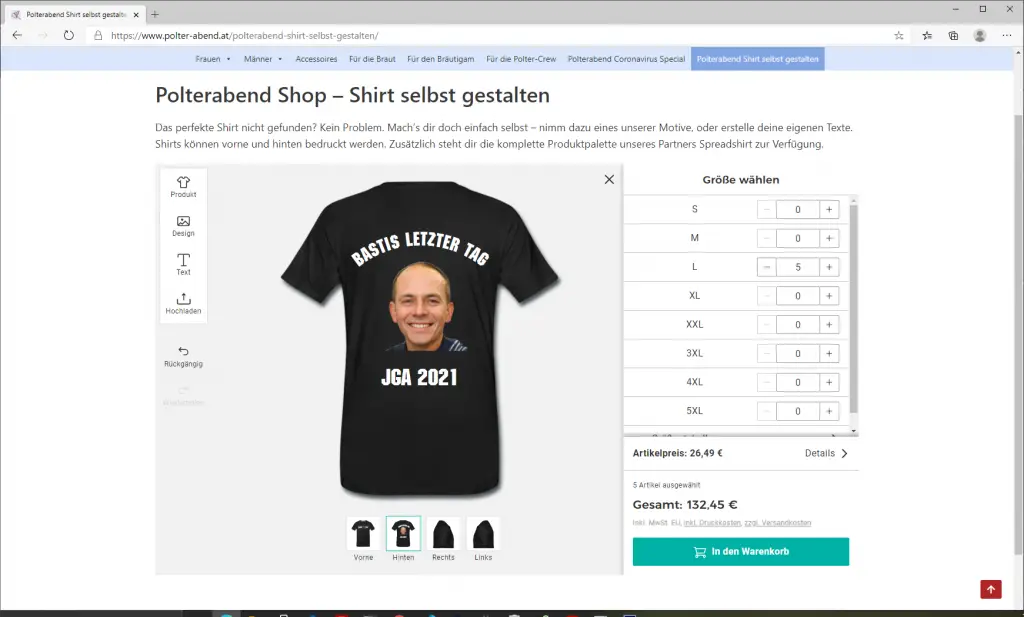 When you have finished designing your bachelor party shirt, all you have to do is click on "Calculate price" at the bottom right. After that you can add the shirts in different sizes to your shopping cart.
Order
Congratulations, your homemade bachelor party shirt is now ready. To complete the order, simply click on "Shopping Cart" and then on "Checkout". You will now be redirected to the page of our partner Spreadshirt, through which payment and shipping takes place. VIel fun with your shirt!