Ibiza, the island of sun, beach and parties, is a popular place for the hen Bachelor Party or bachelor party. Perfect for those who love summer and want to party properly. But beware: Ibiza is not for small purses.
Accommodation at stag night in Ibiza
The island offers a variety of accommodations, from luxurious hotels to budget hostels and Airbnb accommodations. A popular hotel for Bachelor Partyand stag parties in Ibiza is Ushuaia Ibiza Beach Hotel. It offers luxurious rooms, ocean-view pools, and an impressive rooftop terrace with stunning views of the island – and is part of the world-famous Ushuaia Club. Another great place to stay is Hotel Pacha, which is right next to the famous Pacha nightclub and offers an ideal location for night owls.
If you are looking for a cheaper accommodation, hostels like Amistat Hostel are a good choice. They offer inexpensive accommodation in a central location and a great way to meet other travelers. Airbnb also offers many accommodation options, from single rooms to villas, which are ideal for larger groups – so perfect for the stag night in Ibiza.
Ibiza bachelor party food & dinner
When it comes to restaurants, Ibiza has a lot to offer. Some of the best restaurants on the island are located in the old town of Ibiza Town, also known as Dalt Vila. Here you will find Mediterranean cuisine, seafood specialties and tapas bars. The restaurant El Olivo, which is known for its innovative dishes and breathtaking views of the old town, is a good example. But honestly: you can't do much wrong here, just taste your way through.
stag night beach visit in Ibiza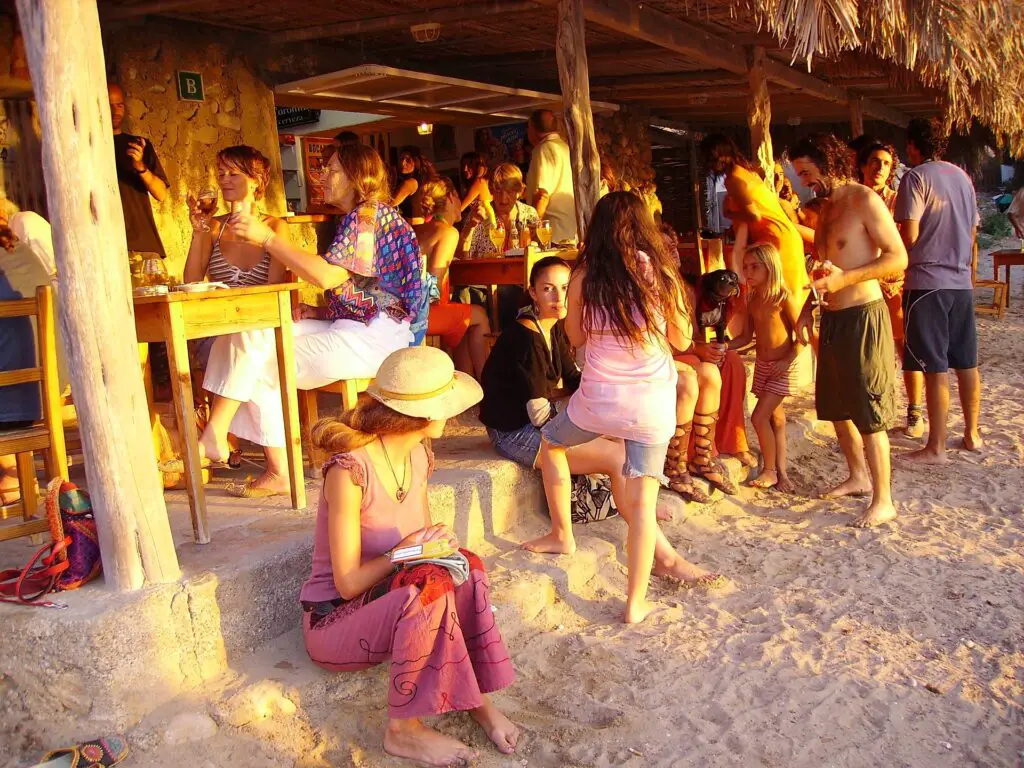 Ibiza is famous for its beaches and nightlife. Some of the best beaches on the island are Platja d'en Bossa, Las Salinas and Cala Comte. Platja d'en Bossa is the longest beach on the island and offers a variety of water sports, as well as numerous bars and restaurants. Las Salinas is a popular beach for party people and offers an impressive view of the salt flats. Cala Comte is an idyllic beach with crystal clear waters and stunning surroundings.
Going out on a Bachelor Party in Ibiza
The nightlife in Ibiza is legendary and the island offers a variety of clubs and bars for every taste. The most famous club on the island is Pacha, which has been a popular meeting place for partygoers from all over the world for decades. Here you will find an impressive sound and light installation, as well as a huge selection of international DJs and musicians.
Another popular club is Space, known for its open-air terrace and stunning views of the island. The club also offers an impressive selection of music and an excellent party atmosphere. Another popular night bar is Lío, located in the heart of the port of Ibiza. Here you'll find a great view of the harbor, as well as an excellent selection of cocktails and a boisterous party atmosphere.
Activities at stag night in Ibiza
Whether party boat* or snorkeling*– you can book the best activities on Ibiza through our partner GetYourGuide.
Prices at the bachelor party in Ibiza
The price level in Ibiza can vary depending on the season and location. In general, however, it is somewhat higher than in other parts of Europe. Luxury hotels and accommodations near the beaches and nightlife can be relatively expensive. However, basic accommodation like a hostel or AirBNB can be a cheaper option.
When it comes to food and drink, there are both inexpensive and more expensive options. Street food and tapas bars are usually cheaper than restaurants near the beaches or nightlife. Activities like boat rides and jet ski rides can be more expensive, while things like bike rentals and jeep tours can be a cheaper option.
Overall, Ibiza is a popular place for tourists and the price level can be correspondingly high. However, there are ways to save money by choosing cheaper accommodation and staying away from peak season. It is also possible to enjoy the nightlife without spending too much money by going out to bars instead of expensive clubs.
Overall, Ibiza offers a variety of options for an unforgettable bachelor Bachelor Party or bachelorette party. From luxury accommodations to budget hostels and Airbnb accommodations, from top-notch restaurants to beaches and nightlife, there's something for everyone to discover. Whether you are looking for relaxation, fun or adventure, Ibiza has everything you need to have an unforgettable time. And if Ibiza is too expensive for you, check out our other tips for stag night travel.